Overnight trip - 1 nights, 2 days fishing
Our overnight trips begin with a full day of fly fishing, followed by a gourmet dinner and a night under the stars, riverside. While anglers and guides are floating and fishing at their own pace our gear crew, having rowed ahead all morning with the entire camp piled high on their boats, arrive at that night's campsite. Erecting tents, setting up tables, assembling stoves, snapping cots together, chopping wood and prepping dinner is their job – your job is putting the flies on the water. Upon rolling into camp that evening, expect to be greeted with a warm water wash, an hors d'oeuvre / cocktail table and flickering campfire. While we put the finishing touches on dinner you may choose to do a bit of wade fishing around camp, take a short hike or stretch your feet out and listen to the quiet. Dinners are served family style and are often the highlight of the trip. Some of our favorite entrees include crab stuffed salmon fillets, cheese ravioli with red sauce, and, if our hunting season was successful, grilled wild Montana elk steaks. We complement the main course with fresh salads, tasty side dishes, selected wines and end with a delectable dutch oven desert. You'll wake up to a hearty breakfast followed by another full day of fishing. There's no better way to slough off the real world.
We delight in creating overnights planned specifically to suit your group and wishes so call us if you have particular desires.
What's included: In addition to our standard inclusions for full and half day trips – your guide, travel to and from river, rod/reel, terminal tackle and flies – Overnight and multi-day trips include three meals a day, tents and state of the art camping gear.
What's not included: Montana fishing license, waders (we can arrange rentals), transportation to and from Missoula, and guide gratuities.
---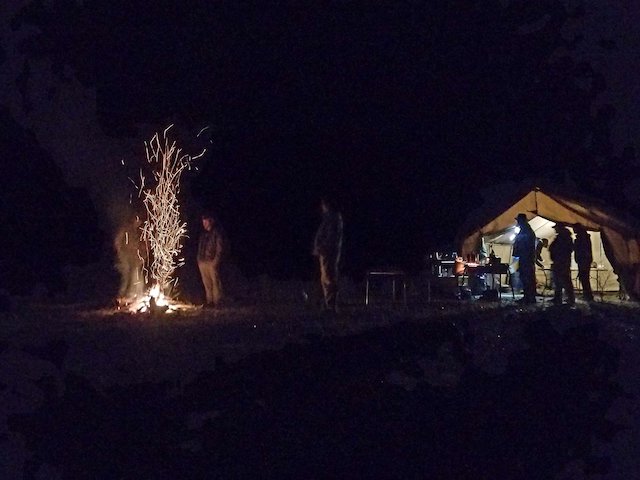 | # of people | Rate |
| --- | --- |
| 1 | $3,580.00 |
| 2 | $3,580.00 |
| 3 | $7,160.00 |
| 4 | $7,160.00 |